In-Store Services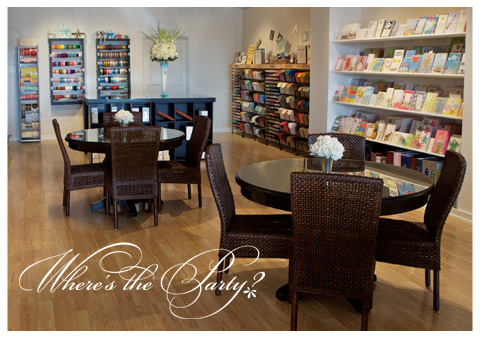 Balloon bouquets or gift wrap, we are at your service. We can create lavish and fun balloon bouquets for birthday parties and other occasions, and if you don't have the time, no worries, we can deliver them right to you.

We know that presentation is important, and so is your time. So let us handle the gift wrapping for you. Come in and check out our unique gifts, find the one that is perfect for the occasion, and let us gift wrap it for you. We offer complimentary gift wrap on most of our items.

Our invitation inventory is the largest in Southern California and we offer only the finest stationary, note cards and invitations. Whether you wish to print your own or have custom printed invitations, you will be assured that you have the best quality for your occasion. Where's the Party also offers invitation consulting where we help you find the right invitations for your occasion.

Customize and personalize your unique gifts with us. Our grand selection offers you choices that you could never have imagined. And, while you're here in our store, let one of our graphic artists custom design your own invitations. Your imagination is all that you need. Watch as your blank sheet becomes a work of art as our designers create the custom invitation for your special occasion.